UFCW Local 2013 members in Detroit are standing with their UAW sisters and brothers on strike at General Motors for a better life!
Write Your Representative: Co-Sponsor H.R. 2474, Protecting the Right to Organize Act of 2019
For too long, employers have been able to violate the National Labor Relations Act without facing any repercussions, routinely denying workers our basic right to join with co-workers for fairness on the job. As a result, the collective strength of working people to negotiate for better pay and benefits has eroded and income inequality has reached levels that predate the Great Depression.
Write Your Representative Now!
---
Message From President Carotenuto on the New England Stop and Shop Strike:
All,
Please see attached messages below from UFCW International President Perrone; please also forward to all family and friends and encourage them to support our UFCW Brothers and Sisters of Stop & Shop throughout New England.
This STRIKE will likely last far into the month of May and we MUST do what we can to help our UNION family to be successful at the New England stores, because it won't be long before the contracts in the NY/NJ areas are up for negotiations as well. We need to send Stop and Shop a clear message – If the company succeeds in harming the workers in that area, even more UFCW Brothers and Sisters in our area will soon be negatively impacted by the actions of an employer who is putting profit over a fair and equitable treatment of  the  members who play a key part of the customer satisfaction and the company's success and profitability.
Moreover, there will be far-reaching consequences beyond just the supermarket industry if Stop & Shop is successful in gutting the wage and benefit packages of these UFCW members; make no mistake, other employers in our area are watching this action as well – places like Fresh Direct / Restaurant Depot / etc.
The reports of UNION SUPPORT from the surrounding communities has been tremendous and overwhelming with shoppers refusing to cross picket lines and calling in to say they will NEVER go back to Stop & Shop if they don't treat the workers better. Community SUPPORT plays a key role in forcing greedy employers to do the right thing when it comes to bargaining fairly and in good faith.
Sign and share the Petitions below !
In Solidarity,
LMC
Louis Mark Carotenuto, President
UFCW Local 2013
Our fellow UFCW members need your help.
Last Thursday, 31,000 hardworking UFCW men and women who work at Stop & Shop grocery stores in New England walked off the job to protest the company's proposal to slash their health care, retirement, sick days, and take-home pay.  They have been holding and growing picket lines across the region and need your help.
Sign and share the petition today to support the 31,000 members who are fighting for affordable health care and better wages.
Stop & Shop's corporate owner made 2 billion in profits last year and now they are asking men and women who have made them a success to take a health care and take-home pay cut.
Enough is enough.  Please sign the petition and share with your friends, families, coworkers and as many allies as you can.
It is time we send a clear message to irresponsible companies like Stop & Stop.
Finally, always remember that when we stand together we have the power to change our lives for the better and to send to clear a message to corporations like Stop & Shop that hardworking union members have earned and deserve better.
Sincerely and fraternally,
                                                                                    Marc
---
UFCW Members Give Back This Holiday Season
UFCW Local 2013 members stepped up in a big way this holiday season. By collecting food and toys for those in need, our members showed their generosity and what we can accomplish when we stick together. Union members at Restaurant Depot Dearborn, Michigan collected 1,300 pounds of food! Union members at Restaurant Depot Fountain Valley, California gathered 100 toys for children in the community! Great job everyone!
(L:R RD Dearborn Shop Steward Shakir Muhammad and Member Gary Hobbs)
(L:R Member Wendy Collins, Deborah Powell Conner of Operation Get Down, Member Yahweh Yahweh Yahweh, Member Kathy Horton, Anthony Hill of Operation Get Down, and Member Gary Hobbs)
(L:R RD Fountain Valley Shop Steward Victor Reyna and Member Louis Castro)
---
Message From Local 2013 President Louis Mark Carotenuto:
On behalf of the Officers, Executive Board, and Staff of UFCW Local 2013, I want to extend to all of you and your families our wish for a joyous and safe holiday season.
As we look back over the past year, we need to take the time to reflect and realize that there are so many things for us all to be thankful for, and yet, there is still so much more to be done. Every year your Local Union prepares for the upcoming contracts to be bargained in that year and we continue to ask for your involvement because without your participation, change comes slow and is difficult to achieve; but for those who have stepped up and been engaged, they see firsthand the benefits of their participation. There are so many workers out there that have no Union – no advocate to fight on their behalf, and are at the mercy of employers that seek only to keep them down and/or take advantage of them. We need to not only work to better the lives of our own members and their families but, to continue to strive and bring that same strength and unity and value of brotherhood to others who desperately want a better life for themselves and their families. Helping them achieve better wages and benefits; helping them secure a safer place to work where they can be sure they will not be put in harm's way and will go home safe at the end of each workday. We need to work to spread that message of unity and solidarity; Brotherhood.
The hard work, dedication and commitment to one another, that each Union brother and sister of UFCW Local 2013, is the spirit which creates the very fabric of what makes this world a better place. You  are the working middle-class that makes this city, this state, this country a great place to live. You are the spirit of the holidays; you are UFCW UNION STRONG !
Merry Christmas / Happy Hanukah / Feliz Navidad / Happy Kwanzaa / etc…  I know there are so many ways to say it but,  however you celebrate the holiday season, I wish you all the best for a happy and prosperous New Year !
Happy Holidays !
Sincerely and fraternally,
Mark
---
Local 2013 Comes Together to Celebrate the New U.S Citizenship of Staff Member Nelson Cruz:
After a long and challenging process, which began at the Union's Citizenship Workshop on June 3rd, 2017; yesterday November 28th, 2018, Local 2013 Staff member Nelson Cruz achieved his dream of becoming a U.S citizen.  Local Union staff celebrated the occasion with Nelson with cake and cookies.
Congratulations Nelson and we all wish you continued success – you're a true example of hard work and drive and as part of our UFCW Local 2013 family – we are all so happy for you & proud of you !! – Local 2013 President Louis Mark Carotenuto
(L:R Recorder Marietta Real, Secretary-Treasurer Eugene Hickey, Nelson Cruz, President Louis Mark Carotenuto)
(Local 2013 Benefits Fund Manager Jackie Dowling and Nelson Cruz)

(Nelson Cruz with Local 2013 Benefits Fund Staff)

---
Message From Local 2013 President Louis Mark Carotenuto:
The start of the Holiday Season is upon us, a time of year that I think most people look forward to but, also seems to go by so fast – if only we could bottle this feeling…
As you settle in for the long holiday weekend ahead – and maybe even get ready for that mad  Black Friday rush – take some time to reflect and be thankful. Thankful for all we enjoy as Union Members and Union Staff / Employees; the benefit that being part of a this UNION provides so much to each and every person affiliated with the UFCW, and in particular our own UFCW Local 2013.
Being part of a UNION Family – an organization that cares about one another, one that strives and works hard to improve the lives of our members and their families; there is such a positive impact in our lives as a result of being part of this UNION Family  that we sometimes take for granted the benefits we do enjoy.  Derived from a hard work ethic and through member involvement and hard negotiations; we are able to enjoy better pay & benefits; we enjoy access to benefits like a free College education / help navigating the path to citizenship / GED and Language education; and so much more… all through the UFCW sponsored programs.
We are certainly in a much better place as the working middle-class,  than if we were not UNION STRONG! We should ALWAYS remember that and, we should be thankful. Thankful for all of these things we do have – and especially thankful for our family & friends at this time of year; enjoy and cherish those bonds because time does sometimes slip away so fast and before you know it, they are sometimes gone from us sooner than we would like.
From me, to all of you; Thank you for all that you do and for being part of the UFCW Local 2013 family; * and especially * thank you to all of the members who are out there working so hard and your efforts every day in your jobs which contribute to make the Holiday Season a joyous one for all !!
Happy Thanksgiving !!
Sincerely and fraternally,
Mark
---
UFCW Local 2013 Members Work Hard and Give Back!
Once again showing the generosity of our members, Shop Steward Victor Reyna (Restaurant Depot- Fountain Valley) organized with his co-workers to give 700 turkeys to those in need in the community. Great work!!
---
Message From Local 2013 President Louis Mark Carotenuto:
I hope you all enjoy the upcoming holiday weekend celebrating Veterans Day. As you use this extended weekend to relax, or go upstate to enjoy the changing colors of the leaves, or possibly even to  kick-off your holiday shopping (it seems like it keeps starting earlier and earlier), I hope you will take some time to also reflect on the many sacrifices made by the men and women of the Armed Forces. Please take a moment to thank them as well if you happen to see any in your daily travels – both the  Veterans and Active members like.
We owe so much to those who have served; and even more to those who have made the ultimate sacrifice for the freedoms we all enjoy.
Happy Veterans Day !!
Sincerely and fraternally,
Mark
---
Message From Local 2013 President Louis Mark Carotenuto:
This is it folks, we are at a cross roads in this country.
Tomorrow's election results will determine if we are taking back this country – for all the right reasons… equal rights for all; women's right – not only to choose but, to be treated with respect; a decent and sound immigration policy for those pursuing the AMERICAN DREAM; the right to Organize and Bargain for an actual living wage and a workplace that is safe and free of discrimination & harassment; to have a thriving working middle-class; to achieve affordable healthcare – that does not exclude pre-existing conditions; to stop the damage being done to our environment – before that is too late; to live in a society that is not  torn apart and divided by its own elected leaders.
The stakes could not be higher and there is no time to waste; people must either make a stand NOW by getting out to vote in these Mid-terms… -OR- we watch over the next two years as the damage to this country becomes (possibly) irreparable and look back with regret.
Do NOT waste this opportunity – these Mid-terms are likely to be a defining moment for our country… let's make the right choice !
Sincerely and fraternally,
Mark
---
Message From Local 2013 President Louis Mark Carotenuto:
If the last several weeks have shown you anything, it should've shed a very clear light on the fact that NOW, more than ever, your vote counts!!
The spectacle we witnessed over the nominations & confirmation process for Brett Kavanaugh to the US Supreme Court, was the picture of the absolute craziness and the outright breakdown of our democratic political system in Washington, D.C.
On the day of her testimony before a Senate sub-committee, Trump called Dr. Blasey Ford's testimony "moving and credible"… he (finally) authorized an FBI investigation into the allegations she and others brought forward…. he went on record as saying there were no limits to the FBI investigation and he hoped they looked into everything…. That both sides deserved a full & fair unbiased investigation in order to get to the truth.
One week later, Trump mocked Dr. Blasey Ford at one of his political rallies; he called her a liar; he claimed it was all a hoax; However, the FBI has since come out and stated that they were in fact given instruction to limit their investigation. They never interviewed Dr. Blasey Ford or Kavanaugh's  college room-mates which contradict specific testimony given by Kavanaugh under oath during the hearing….
Moreover, beyond whether Kavanaugh was even innocent of the allegations or not – it is clear that he did lie under oath regarding specific issues. In addition to that, the temperament he displayed during the hearing and the politicized statements he made are clearly new issues that should've been considered and yet… his nomination is forcibly pushed through to a lifetime position that is supposed to require composure; non-political bias; fairness; integrity & truth. Since the hearing and before/after the confirmation vote, the GOP have gone on an all out rampage to claim that this was all a "sham" orchestrated by the Democrats to keep this "good man" off the Supreme Court…  that the allegations were without merit (when a week earlier they all said she was credible and brave for coming forward); they spew this nonsense with a straight face and count on the fact that they can lie and manipulate the American voting public. – Only if we let them -.
Welcome to Donald Trump's America… are you feeling like it's "Great Again" ?!  Well, I don't know about you but, not me…. It's an embarrassment to the rights and freedom's people have fought and died for through the history of this country – they (the sitting elected GOP) are making the USA a punchline to a joke for the rest of the world to enjoy and laugh at… At our expense !
Instead of putting real effort into upholding and improving on important issues like Women's Rights; Immigration Reform & DACA; Climate Change; Improving on the Workers  Right to Organize Freely; Workplace Safety (maintaining line speed limits so workers aren't put in harm's way), in short – Labor Rights; Affordable / Dependable Health care for all; real Tax Relief for the Working Middle Class – instead of only the top 1% and BIG business; etc.,
We are dealing with a President, House & Senate that would rather lie to the American voters while trying to convince you it's true – and talk about "fake news"  rather than be accountable to solve the REAL issues that will positively impact and help the working  99% who put them in office – to fix a broken system.
THIS IS A BIG DEAL people…. We have to get out the vote (GOTV) on November 6th  in order to make a difference with these mid-terms. We MUST change the trajectory of this country NOW – before the damage is irreparable!! It's real easy to screw everything up (fast). REALITY CHECK– it takes years to fix those wrong and/or irresponsible decisions.
If we fail to change the House and Senate NOW…. The damage done over the next two years (piled on top of the mess they've created in the last two years) will take decades to correct – if ever. Think about it folks, is this the America you want for your family – for your children – for your grandchildren??
The impact of our collective non-action today – will impact all of our lives in ways we can't even imagine for many years to come.
Get involved – NOW; talk to your friends and family – Get them involved – NOW;  – VOTE on November 6, 2018  to make a change for our future… so we don't look back at our "history" and regret it !!
Sincerely and fraternally,
Mark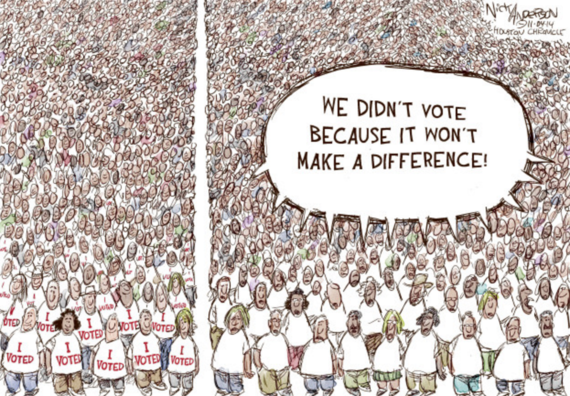 ---
Message From President Louis Mark Carotenuto on Today's Election
Now more than ever we need to be out there and supporting the candidates that support LABOR and the Working Class.
Tish James is one of those candidates. Her record as the NYC Public Advocate has been exemplary; her record on assisting UFCW Local 2013 in our fights on behalf of our membership has been stellar as well. Whether it was helping us to take on Cumberland Packing to do the right thing and providing an excellent Severance Package that allowed our members to move on with dignity, when they announced the closure of that manufacturing process  – which cost over 300 members their jobs; or when she helped us to push for Fresh Direct to bargain-in-good-faith so our members could enjoy good wage increase and improvements to their benefits package… she has been there for all of us !
It's time for us to show her that we support her efforts, not just as they related to LABOR but as they relate to her efforts on behalf of all New Yorkers in making sure they have someone fighting for them every day.
It's THAT important… she makes a difference –so let's make the difference for her by getting out the VOTE today – EVERY VOTE COUNTS….. NOW is the time to take back our government – for the people !
TISH JAMES for NYS ATTORNEY GENERAL
---
Local 2013 Members March in Labor Day Parades Nationwide!
Local 2013 members took to the streets in Detroit and New York to participate in parades celebrating Labor Day. Our members joined the labor movement as a whole to celebrate the many historic victories of unions, such as paid vacations and weekends, and to unite to confront the challenges workers face today from hostile politicians and anti-worker business interests.  At both parades, the mantra Solidarity Forever rang out far and loud!
---
Free College Benefit For All UFCW Local 2013 Members and Their Families!
Did you know you – OR a family member – can go to college for free through your union? It's just another way UFCW Local 2013 is making a better life for our members. Make sure you apply before the 17th! Click below for more information.

---
UFCW Local 2013 Members Rally in D.C. to Fight Against Poverty at the Poor People's Campaign

---
Message From Local 2013 President Louis Mark Carotenuto:
Dear Local 2013 Members,
Given all that you do for our union family and yours, I wish I could thank you personally. The truth is that nobody works harder than you and our members, especially during the holidays. All across this country, we process and prepare the food America eats, we sell the clothes they wear, and help them get better when that cold comes along. We take care of our elderly in homes all across the nation, and drive our children to school. From retail and grocery stores, to food processing plants and nursing homes, you and our 1.3 million members make our communities better and our union stronger.
Even as you work hard every day, countless number of our members like you volunteer and help others by donating food to fight hunger, fundraising to fight cancer, and standing together to fight for the better life you have earned and deserve. You not only make the holidays happen; you make America better for it.
And so, as you prepare to spend time with family this holiday season, I want to thank you. Thank you for everything you do. Thank you for making our union employers and communities better.
Thank you for all of the long days and nights and weekends you work, the sacrifices you make,
the excellent service and expertise you provide. May you and your loved ones have a safe and happy holiday season.
Thank you.
Sincerely and fraternally,
Mark
---
Local 2013 Members in Dearborn, Michigan Help Those in Need This Holiday Season
From left to right: Timothy Williams (Union Member) and Shakir Muhammad (Union Steward)
From left to right: Pashia Jackson (Union Member), Timothy Williams (Union Member) , Jerry Lovett (Genesis House 2), Angela Moye (Genesis House 2), Kisha Mathis (Genesis House 2 ), and Shakir Muhammad (Union Steward)
Local 2013 members at Restaurant Depot – Dearborn, Michigan kicked off the holiday season by giving back to those in need in their community. Through donations from Union members, customers, and a contribution from Local 2013 President Louis Mark Carotenuto, the members were able to donate eight hundred pounds of food and supplies to Genesis House 2, a local shelter that helps homeless women and children get back on their feet by providing housing and transitional services.